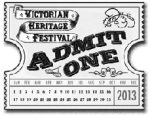 Grand Victoria Pass – Includes access to all program events. Only the non-program events (high teas and building tours) are not included, as these are optional activities that must be scheduled separately for each group..
Friday Reception Ticket – 
Just passing through for a drink with old friends? Dust off your bowler hat and come on down! $5 per ticket.
Saturday Garden Party –
A chance to mingle among the Victorians, enjoying traditional entertainment and diversions. $10 per ticket.
Sunday Only General Admission – 
A general admission pass for Sunday only.
Fashion Show – A longtime favorite, your chance to see all of Victorian finery done to
perfection. $5 per ticket.
Grand Ball – The signature event of the Port Townsend Victorian Festival. The Saturday night ball features live music and dancing. $15 per ticket.

High Tea – For High Tea Reservations, please see our special High Tea page, here.

Historic Building Tours – The roster of included buildings is being finalized. Please check back here shortly to see the schedule of sites and to purchase tickets.