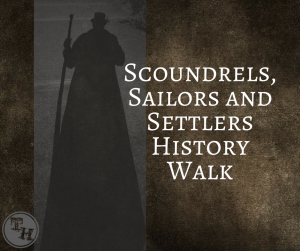 Scoundrels, Sailors and Settlers History Walk
Learn about the earliest residents of Port Townsend and hear fascinating stories of the triumphs, debates and scandals linked to the landmarks around Water Street. Compare the buildings of today to the buildings of yesteryear using historic photographs and walk away with a lively appreciation of Port Townsend's unique heritage. Whether you've lived in Port Townsend forever or are just visiting for the day, you'll find much to enjoy.
Offered Saturday at 11am and 1pm. Tour departs from the main lobby of the Bishop Victorian Hotel at 1pm sharp. Participants are advised to arrive no later than fiver minutes before departure (i.e 11:55am or 12:55pm). Space is limited, so refunds cannot be granted for absence.
Tickets are $12 ($6 for kids under 16) and are available here
Note: We have replaced tour tickets with a direct reservation system. After purchasing, your information will be sent to your guide, who will be expecting you. Upon arrival, you need only tell him your name.